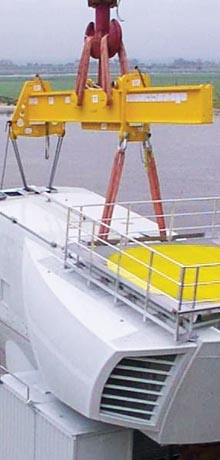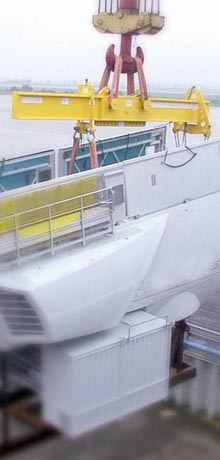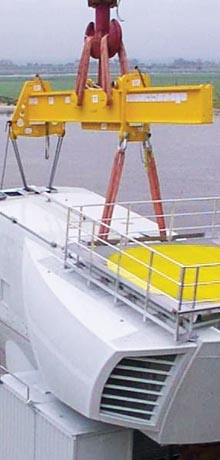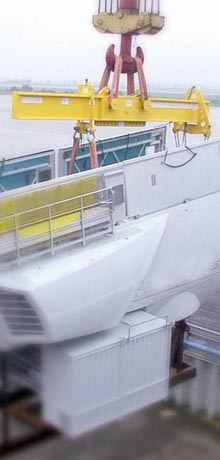 SpanSet spreader beams with attachments for single hooks; with two or four adjustable single hooks and covered with secutex impact protection at both ends to protect users against injuries.

– Comprehensive operating instructions, test certificate and declaration of conformity
– Crane hook attachment adapted at no extra charge
– Short delivery times
– On-site advice.


Accessories
Spreader beams for rams horn hooks; swivel hooks (not rotatable when loaded);
rams horn hooks.
Spreader beam dimensions can also be produced according to individual requirements and can also be supplied
with "fixed" hooks.
Order No.
Nominal Load Capacity
L Max
(mm)
L Min
(mm)
V
(mm)
W
(mm)
M
(mm)
T
(mm)
Weight
(kg)
ST.15.02.01
1000
1000
500
100
50
18
330
13
ST.15.02.02
1000
2000
1000
100
50
18
400
34
ST.15.02.03
1000
3000
1500
100
50
18
430
59
ST.15.02.04
1000
4000
2000
100
50
18
450
89
ST.15.02.05
1000
5000
2500
100
50
18
470
127
ST.15.03.02
2000
1000
500
130
65
25
460
23
ST.15.03.03
2000
2000
1000
130
65
25
460
70
ST.15.03.04
2000
3000
1500
130
65
25
500
158
ST.15.03.05
2000
4000
2000
130
65
25
500
171
ST.15.03.06
2000
5000
2500
130
65
25
500
206
ST.15.05.02
3000
2000
1000
150
70
32
510
80
ST.15.05.03
3000
3000
1500
150
70
32
550
140
ST.15.05.04
3000
4000
2000
150
70
32
580
220
ST.15.05.05
3000
5000
2500
150
70
32
610
310
ST.15.05.06
3000
6000
3000
150
70
32
640
430
Order No.
Nominal Load Capacity
L Max (mm)
L Min (mm)
B Max (mm)
B Max
(mm)
V
(mm)
W
(mm)
m
(mm)
t
(mm)
Weight (kg)
ST.15.02.01
2000
1000
500
1000
500
130
65
18
700
44
ST.15.02.02
2000
2000
1000
2000
1000
130
65
18
810
140
ST.15.02.03
2000
3000
1500
2000
1000
130
65
18
860
220
ST.15.02.04
2000
4000
2000
3000
15000
130
65
18
910
290
ST.15.02.05
2000
5000
2500
3000
15000
130
65
18
910
330
ST.15.03.02
3000
2000
500
2000
1000
150
70
25
820
190
ST.15.03.03
3000
3000
1000
2000
1000
150
70
25
870
250
ST.15.03.04
3000
4000
1500
3000
1500
150
70
25
960
410
ST.15.03.05
3000
5000
2000
3000
1500
150
70
25
1000
500
ST.15.03.06
3000
2000
2500
4000
200
150
70
25
1040
690
ST.15.05.02
5000
3000
1000
2000
1000
190
85
32
980
250
ST.15.05.03
5000
3000
1500
2000
1000
190
85
32
1070
350
ST.15.05.04
5000
4000
2000
3000
1500
190
85
32
1170
570
ST.15.05.05
5000
5000
2500
3000
1500
190
85
32
1220
690
ST.15.05.06
5000
6000
3000
4000
2000
190
85
32
1270
920