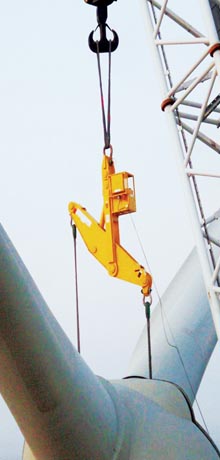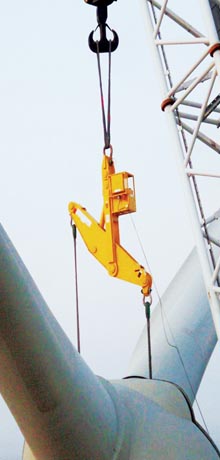 Axzion Lifting Solutions & Windpower

As part of the SpanSet group, Axzion have heavy engineering capabilities to tackle the most technical of lifting tasks. This capability is fully supported by the ability to proof test up to 600T on a purpose built test rig designed for spreader beams and associated equipment.
From selected grades of steel, to welding consistency and standards adherence, customers can be assured of the safety and quality of any product carrying the Axzion brand.
Intelligent Load-Carrying Equipment
The correct guidance is always a question of one's own capabilities. As the manufacturer, we are always able to find the best solution for you. This is true from both a price and a solution-orientated point of view. The fact that approximately 84% of the solutions we provide are modified or entirely individual solutions speaks volumes.
Only every sixth piece of load-carrying equipment that leaves our factory is a standard solution.
Who is Responsible?
The manufacturer is the one who is responsible for the development and production of a product which enters the market bearing its name. As the operators construct and assemble load-carrying equipment, they themselves become the manufacturer.
Insufficient attention is often paid to the risks and liabilities involved in the lifting and moving of heavy loads – sometimes with dramatic consequences for those responsible and for those affected. Even the selection of an inappropriate manufacturer may result in personal liability for the group of people responsible. We bear the responsibility for you. You are dealing with a company which always works in accordance with regulations.
Starting with the Major Proof of Suitability for Welding according to DIN 18800 and DIN 15018 for static and dynamic load-bearing structures and extending to the material inspection certificate EN 10 204/3.1, not to mention the test report, operating instructions and CE declaration according to the new machine directive 2006/42/EC.
Standard or Individual Solution – We Give You the Correct Advice
Because we carry out our own construction and assembly, Axzion-GKS possesses a variety of individual construction elements which form a construction kit which can be assembled as needed to create a comprehensive solution. Our strength lies in the fact that we are able to create custom-built machinery within short delivery times. We find the correct solution for you, whether it is an affordable standard construction or a custom solution.
Materials from renowned manufacturers:
– A safe and good solution can only be created using good ingredients. We have worked with the best manufacturers for many years; for example, the tested blasted steels are sourced from Thyssen and Arcelor.
– The chain construction components come from the RUD Chain Factory in Aalen and the shackles are from van Beest. Forged crane hooks and suspension lugs are delivered by Stahlhammer Bommern and the Peter Schöttler drop forge in Hagen.
– The textile lifting accessories such as trusses and round slings of course come from our parent company SpanSet in Übach-Palenberg.
We Provide Everything You Need
We have our own electrical engineers and hydraulics specialists who are very experienced in the field of materials handling. This is the only way to deliver innovative individual solutions and ensure quick service.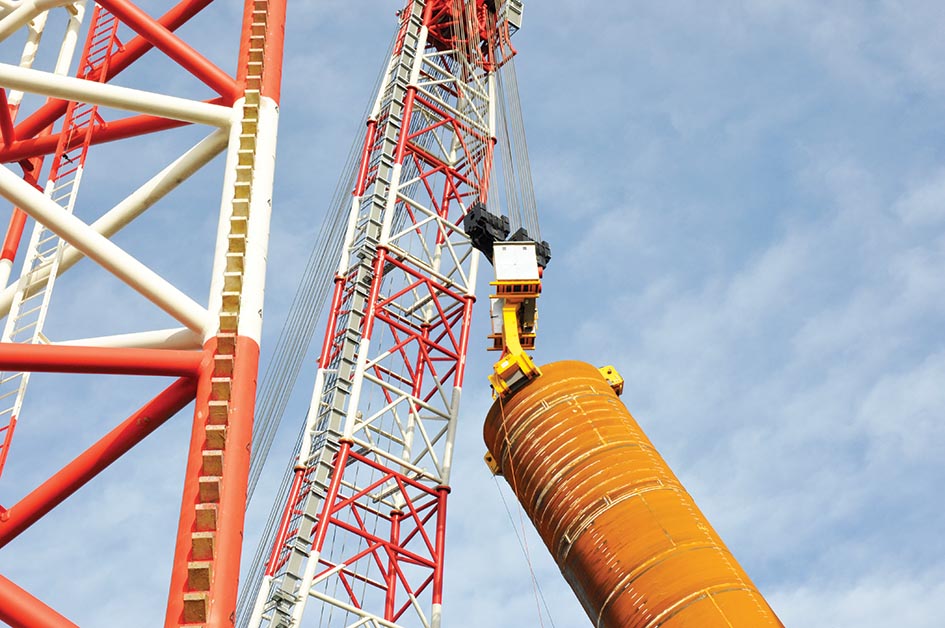 Wind Energy Solutions
No Room For Experiments
We can provide you with the right quality of equipment for each and every one of your applications. Whether you require something strong and sturdy, something extremely compact or simply our standard solutions for one-way transport, we can supply you with every single variant. The SpanSet Group is always ready for any field of application and, no less importantly, our insurance cover is valid worldwide.
Quicker Assembly, Even Under Difficult Conditions
Time is money, and the assembly of wind turbines has a significant impact on costs. Lifting problems are often misdiagnosed and intelligent solutions are often overlooked, meaning that valuable opportunities are missed. We know our stuff; our SpanSet lifting specialists have already developed a large number of smart, time-saving solutions for some well-known manufacturers of wind turbines.
We are particularly proud of the following examples:
– Lifting-beam assemblies: with adjustable suspension equipment for nacelles and gearboxes, even when loaded (can also be angled when loaded).
– Variobeam modular beams: for assembling individual rotor blades in the ground position
– Automated hooks: electrical or mechanical with cablerelease or remote-control functions
– TAP (Tower Attachment Points): the specially designed attachment point for segments of the turbine tower. Maximum weight of 100 tonnes, can be adjusted between the diameters 2.5 and 4.2 metres