Product Description
Heavy Duty High Capacity Performance
Magnum Force® Roundslings for Heavy Duty High Capacity Performance
Up to 50% lighter than conventional round slings for even better manual handling
Up to 50% slimmer than conventional round slings
Can be laid against tighter edge radii than conventional PES slings
Shackle and hardware interface is therefore less crowded
Variable load bearing point for more even wear
Ideal for choke lifting cylindrical objects without creasing
Less creasing means less wear
Lifts smooth objects without damage
High strength to weight ratio
Reinforced high performance woven cover
WLL data woven into sleeve for unmistakeable capacity identification
Wide range of capacities from 10,000 to 600,000 lbs (and larger upon request)
Available in lengths up to 98 ft
Roundslings are repairable upon manufacturers inspection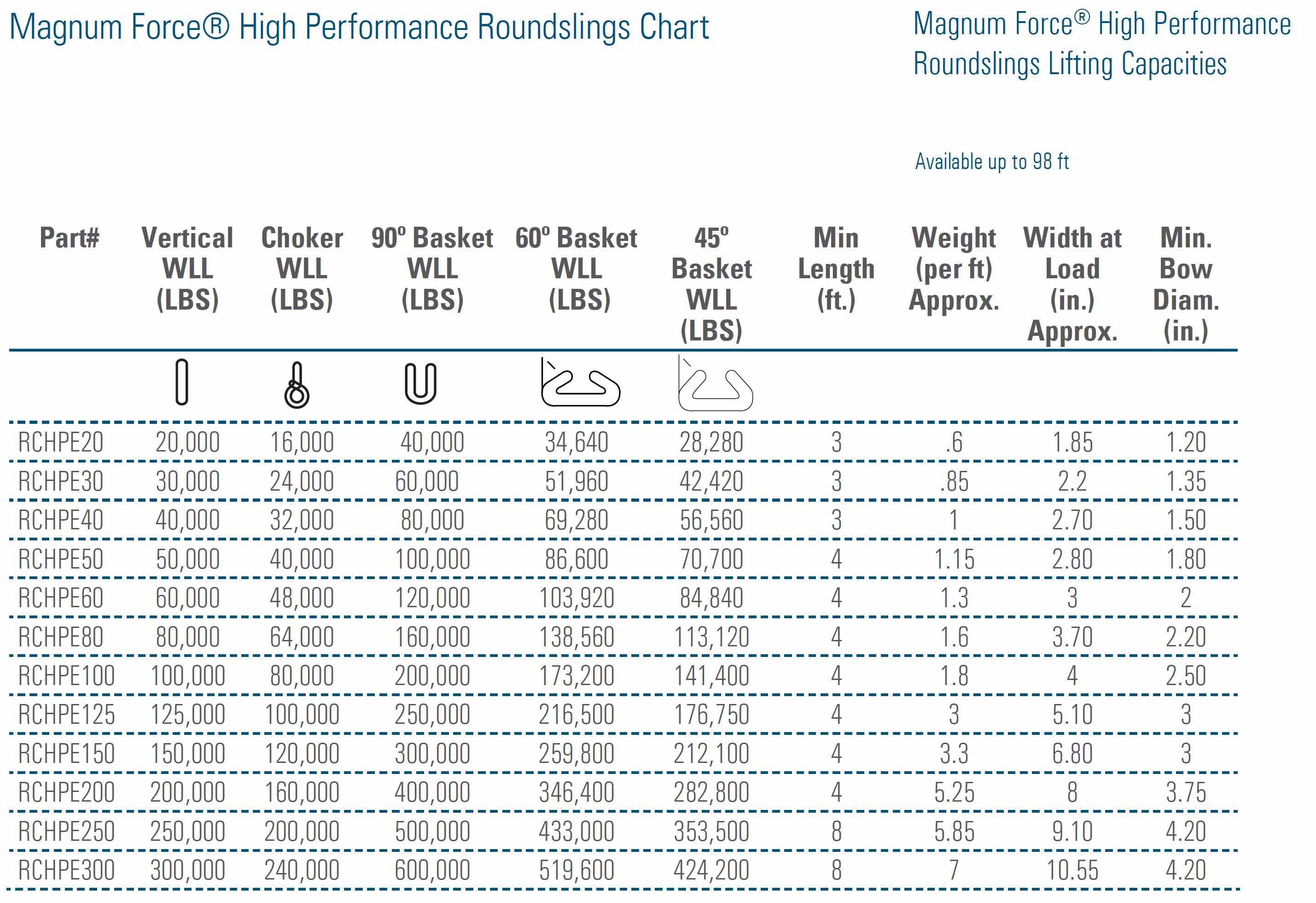 Compact
The innovative construction with a high performance polyester fiber and a compact protective cover partially woven with the same material make the Magnum Force Roundsling up to 50% slimmer than comparable roundslings with the same load bearing capacity. At the same time, it produces greater stiffness within the sling along both axis. The roundsling is not bunched even in smaller crane hooks and attachment points and it is easy to suspend the sling overhead.
Wear Resistant
Outer protective cover is reinforced with an extremely abrasion and tear resistant high performance polyester. In addition, the special design reduces the formation of bunching at the attachment point, which again significantly improves the wear behavior. Magnum Force Roundsling exhibits the greatest reliability and longest durability even under the harshest operating conditions – an economic factor you can count on.
Resilient
The new, high performance fiber has a significantly greater capacity. Consequently, less material is needed in the fabric, which makes the Magnum Force Roundsling up to 50% lighter than conventional roundslings. With the same load capacity, this high performance roundsling can be laid against tighter edge radii than conventional polyester slings. Work becomes more efficient, quicker and safer.
Compliant
Magnum Force inner load bearing core is made from the same material as the outer sleeve. This is to ensure any chemical damage indications are consistent with both inner and outer materials. ASME B30.9-2014
Identifiable
The Magnum Force has an extra sleeve with a raised, woven-in load capacity indicator- a safety feature that has proved to be a success. The load capacity is clearly identifiable even from a distance in the dirtiest conditions. Confusing the roundslings is therefore effectively avoided, protecting people and material from accidents.