Current Positions Available
SpanSet Australia is based in a purpose-built manufacturing facility in Emu Plains, NSW. We are part of a global enterprise that has been in operation for over 50 years.

Currently enjoying a prolonged expansion period, our complete range of webbing based Height Safety, Lifting and Load Control products ensure our valued customers can rely upon us as their one-stop solution for keeping hard-working Australians safe on the job!

We currently have a rare opportunity with various positions available throughout our business. If you are an experienced Industrial Sewing Machinist, Machine Operator or Pick Packer we want to hear from you.

Please send your resume with atleast one referee listed along with a cover letter introducing yourself and informing us what qualities you can bring to the position to production@spanset.com.au. Only shortlisted candites will be contacted for an interview.
Please note, all employees are required to undergo a National Police Clearance prior to commencement of employment.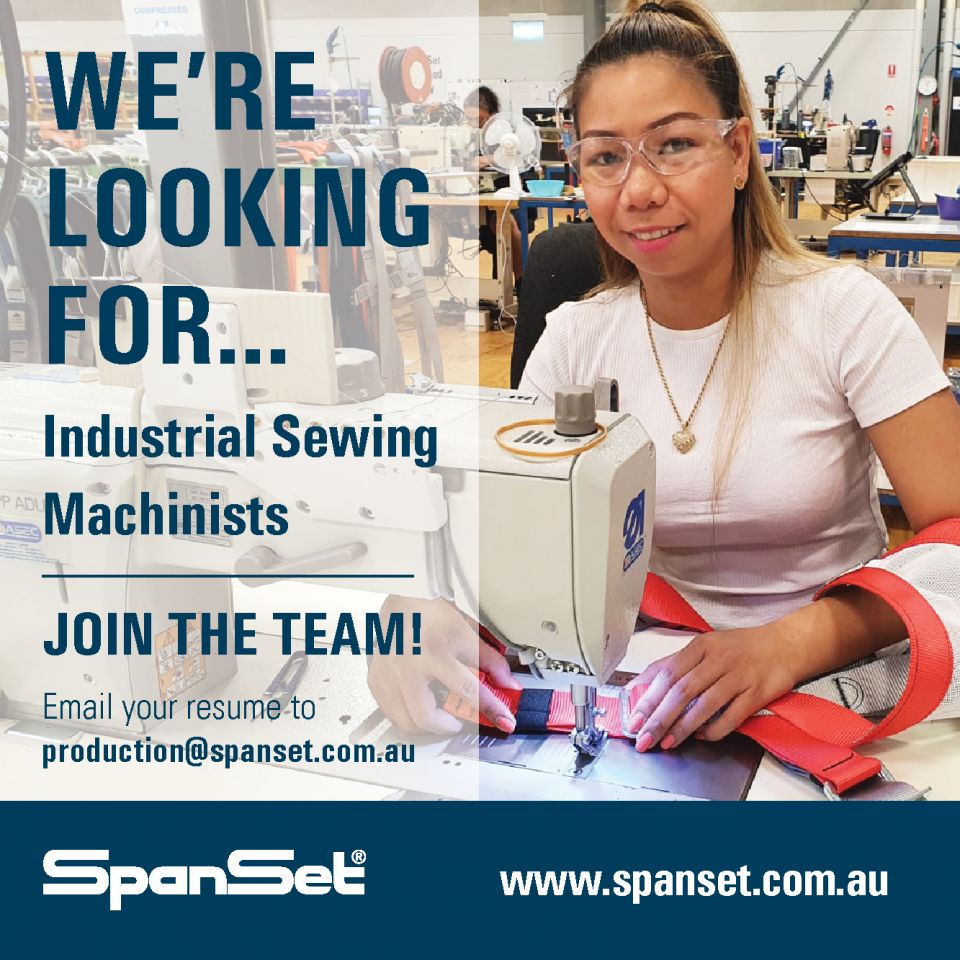 We are looking for a dedicated and experienced Industrial Sewing Machinist to join our busy team and assist in our height safety division.
Day shifts - Between 8am and 4pm
Monday to Friday Only - No weekends
Immediate Start!
Flexible Hours
About YOUR new role:
You will primarily be responsible for ensuring that we follow strict height safety standards and quality controls when completing the following tasks:
Accurately measure and cut webbing & ropes (using a Hot Knife).
Sewing ropes and materials on an industrial sewing machine.
Additional sewing, operating a manual and automatic machine.
To be successful in YOUR application you'll need the following attributes:
Identify your experience working within a fast paced/high volume warehouse/manufacturing environment.
Ability to problem solve and offer solutions.
Attention to detail and appreciation for strict safety standards.
Physical fitness capable of the requirement of this role - ability to lift and carry weight of up to 10kgs.
Have the ability to read and understand measurements
Be self-motivated and reliable
Possess good communication skills
Ability to take instructions and work autonomously and in a team
---
We are looking for an experienced Machine Operator who will be a valued member of our production team. Some of the tasks include machine setup, running, maintenance and adherence to quality and safety procedures.
Day shifts - Between 8am and 4pm
Monday to Friday Only - No weekends
Immediate Start!
Flexible Hours
YOU will need to:
Be fit, healthy and able to work in a highly physical, repetitive work environment
Have sound mechanical skills
Have acute attention to detail
Have experience working in a fast paced environment
Spanset Australia Ltd is dedicated to continually improving the way we work. We are constantly investing in the latest equipment and implementing cost saving strategies for our customers. These strategies have been driven by Spanset employees willingness to embrace the latest technologies in our field.
We currently have numerous contracts with well known local brands and we believe that our ability to develop such excellent customer relationships is a reflection of our company management stability, product quality and supply performance, as well as innovation and growth in our product development.
If you believe you have what to takes to work in this environment and want to be a part of a great team who are commited to manufcaturing safety products for Australia and beyond we would love to hear from you.
---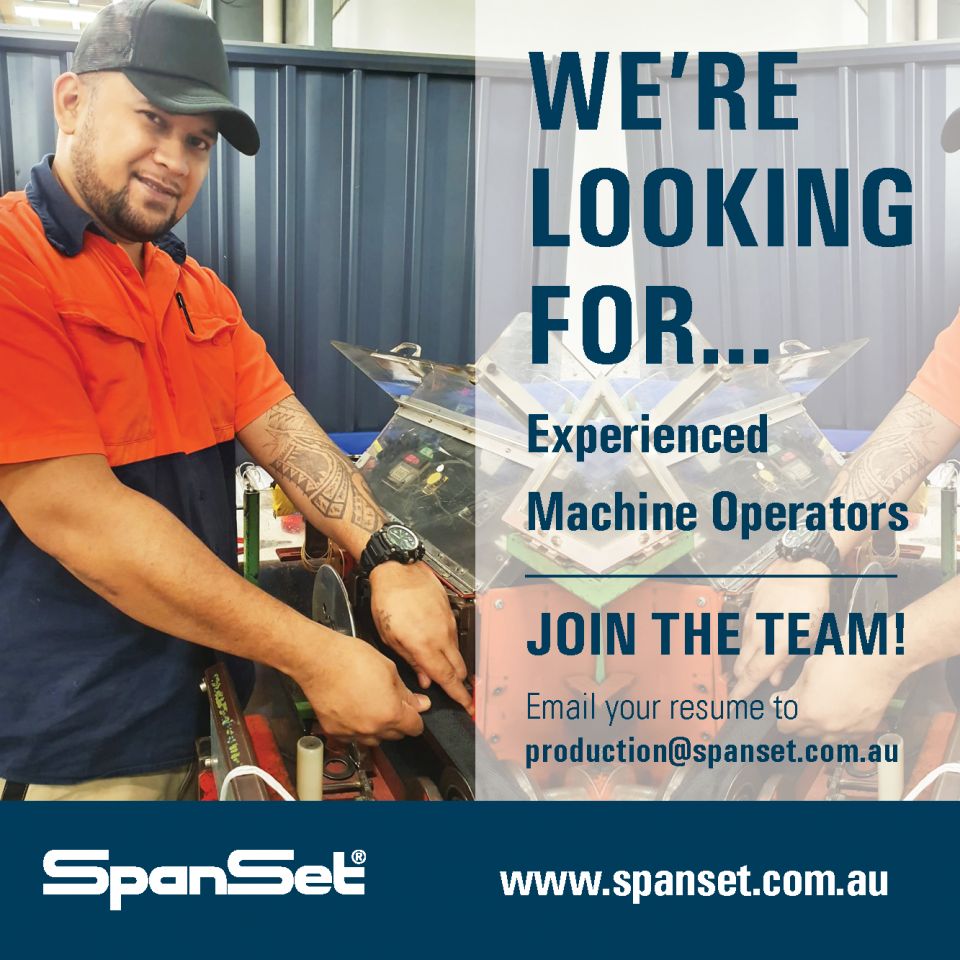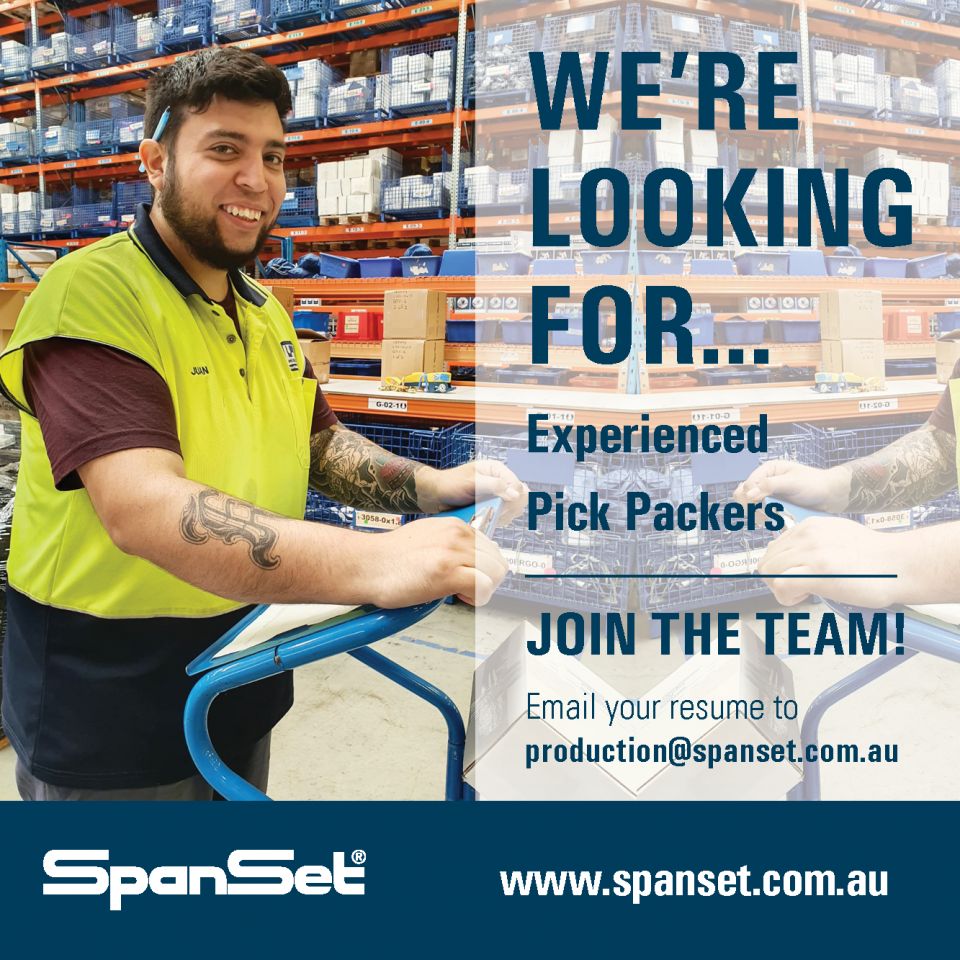 We are looking for warehouse Pick Packers who contribute directly to achieving daily demand operation and service. This role's key focus is to assist in our warehouse with counting and receiving stock, picking and packing, moving and organising styles, assisting as needed, and general warehouse tasks.
Day shifts - Between 8am and 4pm
Monday to Friday Only - No weekends
Immediate Start!
Flexible Hours
Forklift licence essential
YOUR responsibilities will include:
Quality checking orders before dispatch
Working in a fast-paced environment
Assist with other departments and cleanliness
Restocking warehouse
Stocktaking
Good communication skills and attention to detail
Strong computer operating skills required. (You will be provided with onsite training for our particular systems)
We are looking for an all-rounder that is a team player, with a friendly personality, possesses great work ethics and shows patience.
---