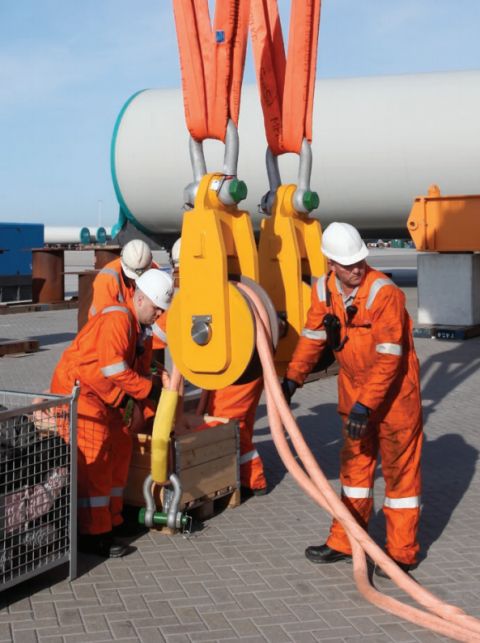 SpanSet and Lifting Gear UK working in partnership to offer quality Training and equipment.
---
The Background
SpanSet train 25,000+ candidates annually both at our Training Centre in Middlewich, Cheshire and at locations throughout the country. We are always looking to improve the range of courses we offer off site as well as expand on the geographical areas we cover.
Lifting Gear UK opened their large Bridgwater depot, which is sited close to Hinkley Point in 2017. It soon became a key site, complimenting the branch network and offering a wide range of stock for both Hinkley and the surrounding South West area. Lifting Gear UK recognised Bridgwater would be an ideal venue to offer both Lifting and Work at Height Training as both classrooms and space for a training structure were on site.
Martin Relton, head of Lifting at SpanSet and Andy Stafford, Group Commercial Director at Lifting Gear UK have worked together since 2012 when SpanSet provided Magnum X round slings to Lifting Gear UK for Gwynt Y Mor Wind Farm, situated off the North Wales coast. Continuing to work together in partnership to offer quality Training and equipment was the next logical step.
SpanSet & Lifting Gear UK are delighted to announce a range of Training courses will be available to book from 1st August 2021.
Practical Lifting Training Courses
Rescue from Height Training Courses (using Gotcha Rescue Kits)
Safety Harness Theory Training
Radio Frequency Awareness Training
For help and advice on any of our training courses - call now on 01606 737494 or leave a message here.
Equipment -Lifting Gear UK will also be stocking a range of SpanSet Height Safety, Lifting and Load Control equipment, complimenting the Training courses offered. 
Examples include, (however not exclusive to):
SpanSet Spectre Lifting Slings

Harness and Lanyards

Gotcha Rescue Kits

Safe Lifting Kit

Spectre Ratchets
SpanSet Spectre - Ratchet Lashings
Safe Lifting Kitsat to it.
"With their excellent Lifting and Work at Height Training and manufacturing background, SpanSet are an ideal partner for this new venture at Hinkley Point and beyond'. We have been looking to expand our Training offer and look forward to welcoming candidates to our new Bridgwater Training Venue this Summer". Andy Stafford, Group Commercial Director, LGUK
'SpanSet and Lifting Gear UK hold similar values of offering quality products and services to our customers, backed by excellent technical support. We look forward to a bright future working together both at Bridgwater and throughout the UK'  Martin Relton, Materials Handling Manager, SpanSet UK